Are you interested in becoming a EMT and working with one of the best Emergency Medical Systems on the Olympic Peninsula?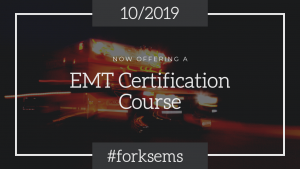 Click Here for complete course details.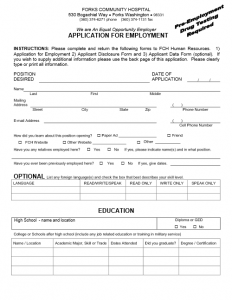 Applications are available here and in the Human Resources Department.
Deadline for course enrollment is October 1, 2019
Forks Ambulance is a volunteer organization that serves the City of Forks and La Push, and provides ambulance and rescue coverage for West Clallam county to West Jefferson County.  We respond to Olympic Corrections Center and all access points to the rivers, trails, and back roads and everything in between these areas.
The volunteer EMT program is known as the Ray Ellis Memorial Volunteer Ambulance Corps (REMVAC) and has been serving the community for almost 60 years.  Forks Ambulance recently added two permanent EMT's to the organization, these EMT's work during the day with Volunteer EMT's working all other shifts as well as the day shift.  All EMT's at Forks Ambulance are state licensed and certified through a rigorous training program and held to the same standards of education and training as required by state law.
[blockquote text="When Called, We Serve" text_color="#00A651″ width="" line_height="undefined" background_color="" border_color="" show_quote_icon="yes" quote_icon_color="00A651″]
REMVAC has trained with and responded to incidents with the Forks Police Dept., La Push Police Dept., Forks Fire Dept., Washington State Patrol, Dept. of Corrections, Airlift Northwest, Olympic National Park Service, Clallam County Sheriff's Office, Jefferson County Sheriff's Office, The Department of Natural Resources, Quileute Fish and Wildlife, The Washington State Department of Fish and Wildlife, US Customs, Border Patrol, ICE, and the FBI.